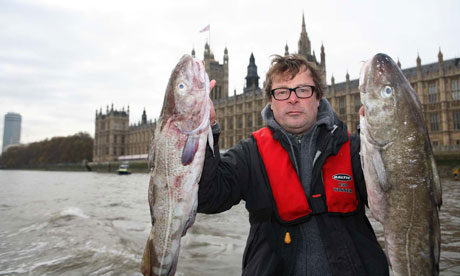 [

Image source

] The extension at River Cottage looks familia

r
Did anyone out there watch it? How ridiculous was it?? I've not done a News Views in a while, but after watching 'Hugh's fish fight' last night on Channel 4 I feel I should, if only to find some facts for myself in the process. For anyone who didn't watch it, the show is part of Channel 4's fish season and follows TV chef Hugh Fearnley-Whittingstall (from such greats as 'Escape to river cottage' and 'Return to river cottage') as he explores the sustainable use of fish from our seas.
The first programme looks into the EU quota system for fishing, which is part of the Common Fisheries Policy. Now I remember learning about this at school so it's obviously not a new thing, but it needed a TV chef to really bring it to the public's attention, and it definitely seems to have done that. The basic issue is set out on Hugh's website:
"
Around half of the fish caught by fishermen in the North Sea are unnecessarily thrown back into the ocean dead.

 
The quota system is intended to protect fish stocks by setting limits on how many fish of a certain species should be caught. 

Fishermen are not allowed to land any over-quota fish; if they accidentally catch them – which they can't help but do - there is no choice but to throw them overboard before they reach the docks
."
The show highlighted a fishmonger in Hastings who had to buy most of his fish from Norway, despite there being more than enough fish being caught on his doorstep before being thrown overboard again about 500m from his shop. An estimated 1 million tonnes of fish are thrown overboard in the North Sea every year. Hugh's fish fight will continue to tug at our heart strings for the next couple of nights, but in the meantime you can add your name to a petition by

clicking here
.