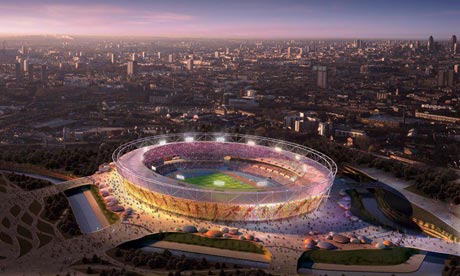 5 sports, 2 teams, 1 stadium
As with Athens before us, and arguably China, the London Olympics look like they're going to happen with a cloud of broken promises surrounding the games.
Over the next couple of weeks, the Olympic Legacy Committee will be voting on whether West Ham or Tottenham should be able to move into the Olympic stadium following the 2012 games. In my opinioin, both teams should stay where they are - but a lot of people disagree. Happily, the Guardian have the same opinion as me, and are at pains to point out that the current situation involves a "round hole, into which no square football related peg fits".
If the London bid was made with the promise that, after the games, the stadium would be reduced to a capacity of 25,000, suitable, but not exclusively for track and field events, then that is what should be done. After all, what sort of message does it give if we make a bid on this promise of legacy, and then just decide against it. I might consider it a good argument if there was a better use in mind for the stadium, but there isn't - and with there being so many London clubs, I believe they should stay at least close to their roots (this is directed more at Tottenham than West Ham). If promises are broken so easily, the argument for using mega-events such as the World Cup and the Olympic Games as a catalyst for urban regeneration is out of the window, and the whole process becomes a massive waste of what is much needed cash.
But, on a lighter note, if the Olympic Legacy Committee insist on awarding the stadium to one of the teams, we should at least make it exciting shouldn't we? Maybe a match between the two teams where both sets of players are a bit drunk? Or a match where both teams have to be made up of at least 5 of the respective clubs board members? Or maybe just a board members 5 a side with both managers in goal, and it's foul football like the good old days of jumpers for goalposts? Wait, I've got it, a modern pentathlon in which the players compete? How good would that be?? Boa Morte vs. Palacios in the show jumping, Dawson vs. little Freddie Sears in the fencing, and the whole starting 11's against eachother in the freestyle swim/cross country. Shooting could be a bit boring but I'm sure we could work out a way to spice it up a bit.